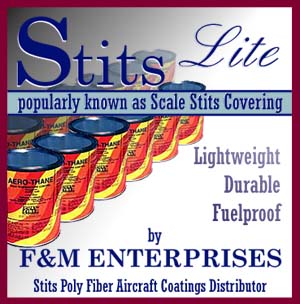 All you need for new or existing model projects, are all right here at this site.
---

Poly Fiber Covering System

Poly Epoxy, Alfa Epoxy and SuperFil

Information and Samples Available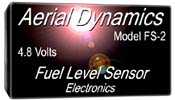 ---
If you'd like to know when we update
a page, then click Page Watch.

Made In The USA
It's A Complete System -- No More Shopping Around!
---
Stits Lite is a simple, lightweight, durable, and fuelproof system proven again and again in the contest arena and in everyday flying. Stits Lite was developed from the full scale aircraft industry and formulated as a quality replacement for concurrent model covering products.
---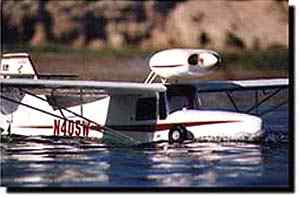 ---
What better way to challenge the quality and durability of a covering system other than with a 1/4 scale Kingfisher to slosh about? No contest for Stits Lite.
---

Color Charts

Crew Members

Frequently Asked Questions

Operation Manual (instructions)

Order Form

Suggested Links


Polular Colors
---
Scale Stits Covering
F & M Enterprises
22522 Auburn Dale Drive
El Toro, CA 92630-5005
(714) 583-1455